After the first successful festival in Berlin,  The Intimate Revolution is coming to Vienna! ❤️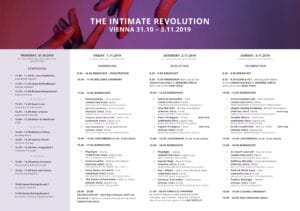 On the first day, we will explore sexuality and intimacy on a rational basis – with lectures in the style of TedX,
at the VHS Veranstaltungszentrum Praterstern, right next to Vienna's famous prater park and Riesenrad. 
The following days are filled with over 30 different workshops during the day and nighttime events at the magnificent Aux Gazelles, which offers not only exquisite moroccan cuisine and beautiful interiors, but also a gorgeous Hammam Spa to hang out in between the workshops and during night events.
Dara and Simon, Seani Love, Sonja Reifenhäuser, Michael Kreuzwieser, Melissa Tofton, Andrej Uhrich, Alisa Eresina, Celeste Pomegranate,

Fehu Freyjadóttir, Andrea

 and many more will facilitate workshops on intimacy, sensuality, bondage, connection, authenticity, love, kink and tantra.
 The festival tickets are all SOLD OUT but, you are warmly invited to join us for ONE NIGHT at the PARALLEL UNIVERSE – an adult playground on November 2nd.  Lets explore an intimate, playful night with performance, dance floor, costumes, hysterical literature and a love space..
🍑
Prices
Rebel of Love (Normal Ticket) // 320 € // SOLD OUT
Ticket for Two // SOLD OUT
Volunteer // SOLD OUT
Low Income // SOLD OUT
*PARALLEL UNIVERSE – An Adult Playground Nov 2nd // 25 € 
Food is Good (add on – all inclusive option for food & drinks) // 80 €
NOTE: The Intimate Revolution // Vienna is happening at the Aux Gazelles, a marocan restaurant in the heart of Vienna. Lodging and food are not included in the regular ticket price. The Aux Gazelles offers a big Hammam spa (a marocan style steam bath) to indulge in, food & drinks prepared of highest quality, and a great atmosphere in the middle of Vienna. Program starts at 8.30 in the morning , there are over 30 different workshops happening during the day with top-notch facilitators from all around the globe and our parties in the evening last until late at night – be prepared for a deep dive into intimacy and pleasure!